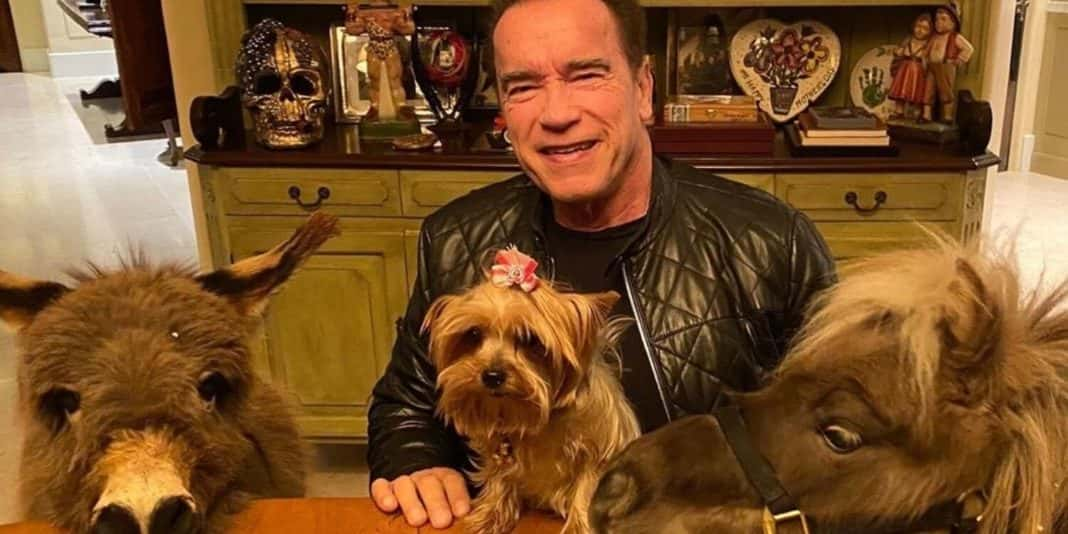 ARNOLD SCHWARZENEGGER'S CORONAVIRUS LOCKDOWN IS RIDICULOUSLY VEGAN
ARNOLD SCHWARZENEGGER'S CORONAVIRUS LOCKDOWN IS RIDICULOUSLY VEGAN
Arnold Schwarzenegger is staying home with his animals and eating vegan food to avoid the coronavirus—and suggests that others do the same.
Following calls for seniors in California to isolate themselves during the coronavirus outbreak, 72-year-old Arnold Schwarzenegger is at home with his animals and eating vegan food.
The actor, former politician, and bodybuilder posted a short clip on Instagram encouraging people to stay home and avoid spreading the COVID-19 virus.
According to CNN, the Coronavirus pandemic has now killed more than 6,500 people worldwide. Experts believe the virus originated from China's wild animal trade—and the city of Wuhan in particular. Scientists believe that an infected person, animal, or group of animals first introduced the virus to the Huanana Seafood Wholesale Market.
The virus has spread rapidly around the world, with South Korea, Italy, and Iran among the most affected outside of China. Approximately 169,000 people are confirmed to be infected, and a number of countries and states have implemented social distancing measures to try and reduce the spread.
In California, Gov. Gavin Newsom has asked seniors and people with chronic health conditions to stay inside.
Schwarzenegger references the importance of listening to the advice in his video, "especially when you are 72-years-old!" The actor will be staying home with his animals Whisky and Lulu—a miniature pony and donkey. In the video, he feeds the animals carrots at the dinner table and adds: "I just had my little bit of vegan food."
"See that is what we do. We don't go out, we don't go to the restaurants, we don't do anything like that," explained Schwarzenegger. "We just eat with Whisky and Lulu have a good time and be entertained and we have a good time eating here together!"
Schwarzenegger isn't the only person getting through the coronavirus outbreak with the help of vegan food. According to Nielsen Data, shelf-stable oat milk is currently one of the most sought after items by U.S. consumers. Demand for the plant-based dairy alternative even surpassed hand sanitizer, and sales spiked by nearly 306 percent.
"Stay at home as much as possible. Listen to the experts, ignore the morons," wrote Schwarzenegger. "We will get through this together.‬"