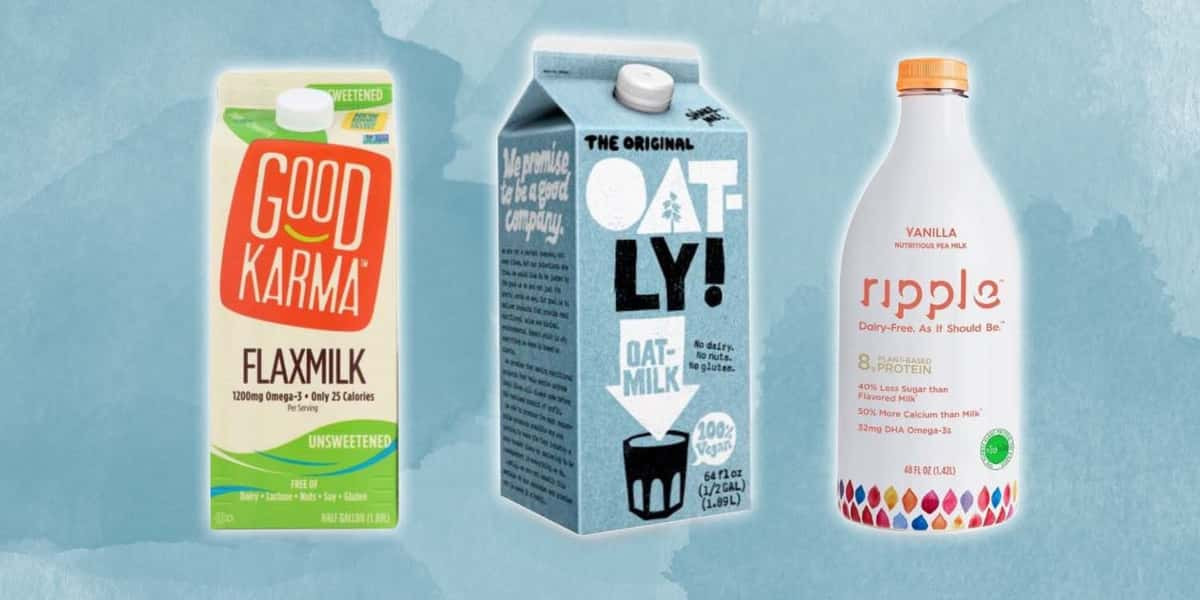 WHICH VEGAN MILK HAS THE MOST PROTEIN?
WHICH VEGAN MILK HAS THE MOST PROTEIN?
The dairy-free market is booming, meaning there are all kinds of vegan milk products available today. From coconut to hemp to macadamia nuts, it seems you can make milk out of pretty much anything you like. Most of these choices are packed with goodness, including essential vitamins and minerals, calcium, and protein.
The latter seems to be a primary concern for many who are considering adopting a plant-based diet. If you've already decided to go vegan or simply to eat fewer animal products, you're probably already familiar with the question "but where do you get your protein from?"
Is There A Lack Of Protein In Vegan Food?
Many vegan foods — from kidney beans to nuts to tofu to chickpeas to vegan meats — are actually packed with protein. In fact, one Beyond Burger by vegan brand Beyond Meat contains even more protein than a traditional beef burger.
Not only can you find an abundance of protein in plant-based foods, but according to food addiction counseller Erin Wather, they could actually be a better source of protein than animal-based ones.
She told LIVEKINDLY via email, "the average American eats more protein than they truly need and the sources they tend to get it from, being animal products, are terribly inefficient and expensive ounce for ounce compared to plant-based protein."
Some of the best sources of vegan protein are soya beans, nuts, and seeds — all of which form the basis of many dairy-free milk and cheese products.
What's The Deal With Dairy?
Vegan versions of dairy are soaring in popularity for a number of reasons.
According to the World Wildlife Fund (WWF) there are approximately 270 million dairy cows around the globe; this intensive farming is harming the planet, contributing to greenhouse gas emissions, the loss of wetlands, and deforestation.
WWF explains, "dairy production has a considerable effect on climate change due to emissions of greenhouse gases such as methane, nitrous oxide, and carbon dioxide." It adds, "In the US, the greatest sources of these emissions in milk production include feed production, enteric fermentation, and manure management."
But the harmful effects of dairy don't just stretch to the environment, its consumption can also harm our health.
Earlier this year, 12,000 medical professionals — all members of the Physicians Committee for Responsible Medicine (PCRM) — asked the USDA to stop recommending dairy to American consumers.
According to the committee, dairy is the biggest contributor of saturated fat to the American diet; high levels of saturated fat consumption can contribute to heart disease. Dairy consumption can also be linked to certain types of cancer, warns PCRM, as well as cognitive decline and early death.
"It's time for the Dietary Guidelines to finally make it clear to Americans that dairy products are dangerous," said PCRM's director of nutrition education, Susan Levin, in a statement earlier this year. "The Dietary Guidelines Advisory Committee can't ignore the scientific evidence against dairy when it makes it recommendations to the USDA and HHS."
Which Vegan Milk Has The Most Protein?
If you've recently decided to ditch dairy and go plant-based — or maybe you're simply looking to change up your fridge with some more options — you might be wondering, "which is the best vegan milk for me?" or maybe, more specifically, "which vegan milk can give me the most protein?"
According to Pop Sugar, soya milk is your best bet. "Not only does soy milk have almost half the calories and fat content as full fat cow's milk, it also boasts a near identical amount of protein and calcium," it explains.
The magazine has pulled a selection of the kinds of milk currently available — dairy and nondairy — into a handy table and measured their nutritional content against each other.
Looking exclusively at protein content, unsweetened soy milk comes in at number one, with seven grams of protein. Oat milk is next, with four grams, hemp milk has three grams, and almond milk has one gram.
Looking at the wider picture — as vegan milk brands are aplenty, and this table isn't representative of every single vegan milk product on the market — here are some of your options in terms of dairy-free milk. In no particular order, this list will evaluate which are the best protein-packed choices, and which products may have less protein, but are high in other valuable nutrients.
1. Mighty Society's Pea Mylk
Although Pop Sugar placed soy milk at number one — and quite often the product is the best in terms of packing in the protein — Mighty Society's Pea Mylk actually comes out on top for this list.
With eight grams, Pea Mylk is on a par with dairy milk in terms of protein content. It also has 50 percent more calcium than cow's milk, according to the brand's website. It notes, "The Mighty Society's Pea Mylk is perfect in a creamy latte, a mighty post gym shake, the perfect porridge, sweet or savoury baking or just to drink on its own."
2. Alpro Original Soya
Alpro soya is low in saturated fat and high in protein | image/Alpro
Alpro's Original Soya Milk is low in saturated fat and is a good source of calcium and vitamins B2, B12, and D. It is also a good source of protein, with three grams per 100 ml.
The Alpro website notes, "Alpro Soya Original is full of the plant-based goodness of high-quality soya beans, milled and blended until deliciously smooth and creamy. Its subtle sweet taste is a great way to start your day – brighten up your breakfast by pouring it onto cereal, into your morning cuppa or even in your latest baking creation!"
3. Silk Soya Milk
Silk's Fortified Soymilk packs in seven grams of protein, which will help to lower cholesterol, according to the brand. The beverage is also low in saturated fat and an "excellent source of calcium."
Silk notes on its website, "Silk Soymilk is the Original Nutrition Powerhouse, made from whole-harvested soybeans grown in the U.S. It's soy rich and soy creamy, with no added sugar."


4. Pacific Oat Milk
Pacific Foods' oat milk contains four grams of protein per 100 ml. It's also a good source of fiber and vitamin D2.
The brand says on its website, "enjoy the natural sweetness of oats over cereal, in a glass, or baked into your favorite dairy-free coffee cake."
5. Milkadamia
With one gram of protein, Milkadamia's macadamia nut milk is on the lower end of the protein content spectrum. However, the beverage — made from sustainably farmed Australian macadamia nuts — is high in calcium, vitamin D, and vitamin B12.
6. Koko Super Drink
Koko's dairy-free Super milk has just over one gram of protein per 100ml. However, according to the brand, the beverage is enriched with nine vitamins and minerals, as well as folic acid and plant fats.
Koko says on its website, "Koko Dairy Free Super Milk alternative has a super taste with super nutrition!" It continues, "who needs milk when Super provides more nutrients than any other non-specialist milk – plant or dairy!"
7. Plenish Cashew Milk
Plenish's Cashew Milk has just over one gram of protein per 100ml. Its cashew nuts are rich with antioxidants, according to the brand, and are a good source of zinc, copper, magnesium, and fiber.
Plenish says on its website, "our deliciously plenishing cashew milk is bursting with organic nutty goodness. It is a natural source of protein to maintain healthy muscles and bones, making it the perfect post-workout pick-me-up."
It adds, "with just three simple ingredients and no additives, preservatives or sweeteners, and a high nut content that means more nutrients for you. Plenish cashew milk is also a good source of copper, that means it helps protect your precious cells from oxidative stress and helps your immune system operate normally."
8. Good Hemp's Creamy Seed Milk
With less than one gram of protein, Good Hemp's Creamy Seed Milk isn't the best on the market in terms of protein content. However, it is an "all-rounder," says Good Hemp. It's a "natural source of good fats with omega 3,6, & 9," it explains.
The brand continues, "looks like milk, works like milk! Great for creamy porridge, cereal, splashing in tea and making the greenest smoothies of all! Because hemp is good news for the planet, too. It breathes in 4x more CO2 than trees."
9. Hope & Sesame
Hope & Sesame's Sesamemilk is on the same level as cows milk in terms of protein. Like Mighty Society's Pea Mylk, it packs in eight grams. It is also gluten-free and nutrient-rich, according to the brand. It notes, "[Sesamemilk is] a rich beverage that will quickly become a family favorite."